A war between Youtubers and TikTokers is going on and things doesn't seem to be good for TikTok as the rating of Tiktok
fell from 4.5 to 1.2 on the Google Play store.
Youtubers never liked Tiktok because they believe that Tiktokker doesn't do creative things like Youtuber do like scripting editing etc they believe they just lipsync and it is an easy job.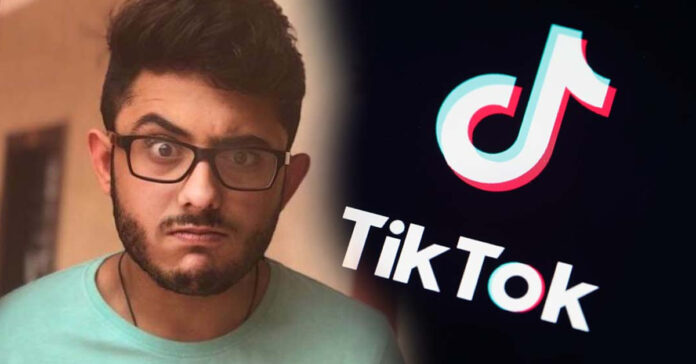 One of the Youtuber Elvish Yadav made roasting video about TikTok and some big TikTokers were roasted, which obviously didn't go well with TikTokers, soon after Elvish, another Youtuber Lakshay Chaudhary also uploaded a video named"TikTok: ek kensar (means TikTok is cancer) after this a Tiktoker name Amir Siddiqui uploaded an IGTV video, where he told that how big heart Tiktokers have and how united TikTokers are and they post almost 10 content per day and said that if we will join youtube we will rule it.
Finally one of the biggest Roasting Youtuber Carry Minati roasted TikTokers Amir Siddiqui, which didn't go well with the top Indian TikToker (Team07) so they reported all three videos which were taken down by Youtube stating that those videos were harassing people on the basis of race, gender, colour, social status, etc. Even the Bigg Boss 7 contestant Ajaz Khan also jumped into the Youtube vs TikTok war and tried to cash in the situation as he favours team 07 (Adnan, Mr. Faisu, Hasnan, Adu, Faiz Baluch) of Tiktok and made a threatening video.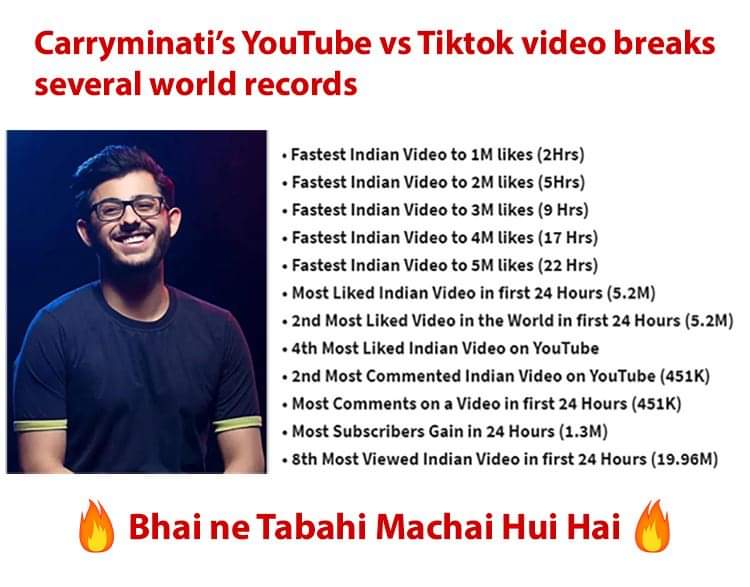 Photo Credits- Twitter
But after day tables turned and Ajaz Khan apologized to Carry Minati by making a video with his son.
Tiktokers were celebrating as all 3 roasting videos were taken down but soon after this Carry got full support from Youtube Indian community (Ashish Chanchalani, Amit Bhadana, BB Ki Vines, Raftaar, Mostly Sane, Technical Guruji, Mumbiker Nikhil, etc.) and Hindustani Bhau and they started a hashtag #bantiktok which made a huge impact on Tiktok. After the whole Youtube vs TikTok situation Team 07 member, Mr. Faisu youtube video became India's most disliked video with 3.3 million dislikes.
And few videos of Tiktok star Faizal Siddiqui were in the news as he had uploaded some videos promoting acid attacks for which acid survivor Laxmi Agwaral took a strong stand about how he is promoting this online.
BJP spokesperson Tajinder Pal Singh Bagga brought the matter to light and report to the National Commission of Women (NCW) chief Rekha Sharma. She confirmed that the video has been taken down by TikTok but the NCW is awaiting a written reply from them.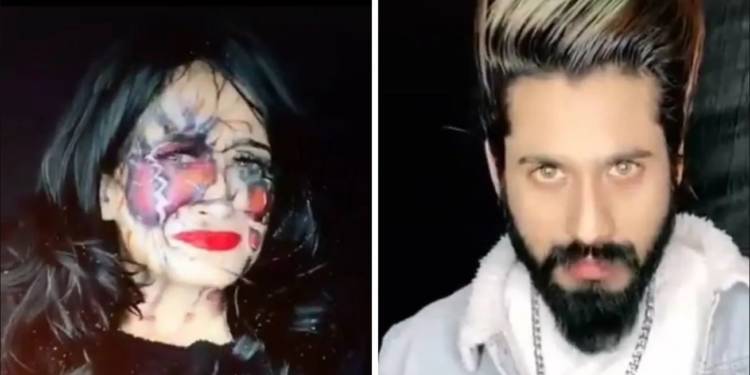 She said that promoting acid attack is not at all tolerable and the commission wants the police to take action against Faisal Siddiqui who has over 13.4 million followers on the video-sharing social networking platform. Rekha Sharma also asserted that the government should also pull up TikTok in this matter and hold it accountable.
In the video In the video, Faizal Siddiqui is seen throwing water on a girl, which is hinted to be acid, while threatening her for leaving him for another guy. In the next scene, the girl's face is shown in heavy red makeup suggesting burns.